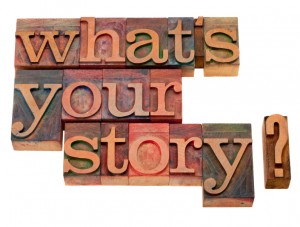 I get it! I get it! Tell stories!
There's been a lot of talk about storytelling for fundraising recently. Just a few weeks ago lots of folks even attended a Nonprofit Storytelling Conference.

The reason I say, "I get it!" is (first) because telling stories to generate revenue is not a new concept. In fact it's been around as long as people have been able to speak. Stories sell! Duh! But another reason is because most of the discussions I've seen about storytelling leave out the fact that storytelling should be a two-way street. This is wrong.

In the book "What Great Salespeople Do: The Science of Selling Through Emotional Connection and the Power of the Story" the authors studied why 13% of salespeople generate 87% of the revenue for businesses. They found that it's because the best salespeople know how to create emotional connections with buyers (donors) by:
1. Telling stories filled with human emotion and drama
2. Helping prospects get caught up in these heartfelt stories
3. Moving past data (i.e.- 314,000 children will be hungry today) and, instead, tell stories that motivate action (i.e.- Little Susie didn't get breakfast today and she won't get dinner either because her mom is on drugs and her dad is in prison.).
4. Allowing more engagement and involvement by exchanging stories with prospects

The problem with too many fundraising initiatives is that they tend to tell stories without opportunities for real donor exchange and engagement. The key to closing more major gifts isn't just telling stories. It's exchanging them.
Don't you love it when your donors tell you why they give? Well, they do too. So I think it's time to open up the exchange much, much further.
By allowing an exchange of stories you help your donors build real human-to-human connections with you, your staff and those who benefit from their donations. That will motivate them to give more.
By allowing an exchange of stories you show that you care about your donor and their reasons for wanting to fulfill the needs of others.
By allowing an exchange of stories you break through barriers with your donors (barriers you might not have been able to penetrate otherwise).
By allowing an exchange of stories you get a chance to prove that you are human too – which builds trust.
By allowing an exchange of stories you give your donors a great way to come forward and engage with you and your organization on a very real, human level.

So, if you want to close more major and planned gifts, don't just learn to tell stories to your donors. Learn to listen to your donors as they tell their stories to you too.

Click to tweet!